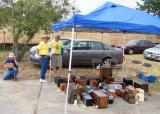 L-R CVC members: John Wallin, Roger Vinande and Matt Thompson manning the buyers corral at the KRE Live! Radio Auction fundraiser event.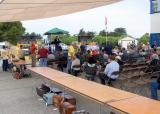 The crowd is treated to a re-enactment of a 1938 radio play during an auction break.
Radio Daze Jazz Band and Kellye entertain the crowd with some "hot" numbers during lunch break.